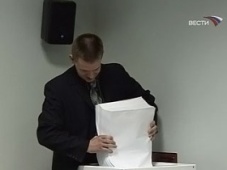 As Russia's presidential election comes to a close, and ballot counting starts to reveal preliminary voting data, the results reveal little surprising numbers. As expected, it appears that Dmitri Medvedev, President Vladimir Putin's endorsed successor, will win the contest. Current data show that he leads polls with some 65% of the vote. Gennady Zyuganov, the candidate from the Communist party, trails Medvedev with a 20% showing.
Vladimir Churov, the head of Russia's Central Electoral Commission, has already told RIA Novosti that "record" numbers of voters took part in the contest.
Yet as votes continue to be counted, Russian electoral monitors are revealing another side of the story. As evidenced by reports from across Russia, widespread violations and falsifications took place during the March 2nd election. Anecdotal accounts indicate that numerous methods, from ballot stuffing to voter coercion have been used to raise turnout and guarantee a win for Medvedev.
In Moscow, observers from the Communist Party (KPRF) noted a difference between the number of voters who came to polling station No. 2881 and the number of votes the station had recorded. According to Anna Novolodskaya, a candidate to the local municipal assembly, electoral officials listed 108 extra votes.
Ilya Yashin, the leader of the "Yabloko" youth wing, revealed that one of their activists was given the chance to vote five times in Russia's capital. Dmitri Volov, who resides in the northern city of Murmansk, went to seven polling stations, and explained to electoral staff that he didn't have time to take out an absentee ballot from his hometown, but that he desperately wanted to vote for Dmitri Medvedev. Only two voting places told Volov that voting without an absentee ballot was illegal. The other five happily issued the activist a ballot.
In another Moscow district, Northern Butovo, the Yabloko press-service revealed that some 30% of votes were cast by absentee ballot. When asked, young people who voted this way explained that they were paid 200 rubles for each ballot cast.
Another common practice has been nicknamed the "carousel." Sergei Dovgal, a candidate to the local municipal assembly, explained what he saw in the North and North-East Moscow precincts: Between two to seven buses full of students and residents of Moscow's suburbs drive between voting stations. The passengers approach an electoral representative, showing their passports, which have a mark of identification – in this case, a pencil check mark in the box showing marital status. The official then notes down each passenger's last name, then hands then a voting ballot. The whole procedure then continues at the next polling station.
Coercion of students, hospital patients, and soldiers was also recorded. Military cadets in one St. Petersburg academy were instructed who to vote for up to a month in advance, according to an anonymous source. The source explained that during the vote, the cadets were forced to take their ballots and complete them in front of a commanding officer.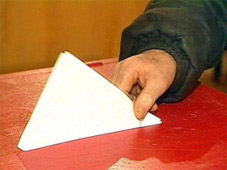 In the south-western city of Voronezh, both cadets and military units were taken to a school that contained two polling stations. According to a KPRF monitor, the soldiers were allowed to vote once at each station.
Residents of one dormitory of the Russian State University for the Humanities were also compelled to vote in the presidential election. Students told the Sobkor®ru news agency that a faculty director came on the building announcement system, and commanded students to "perform their constitutional obligation." He noted that the directive came from the University president, Yefim Pivovar, and that students should vote before 1 PM. Faculty vice-deans then walked door-to-door in the residence hall, telling students that they would not leave the building until all registered students voted.
Monitors from the Communist Party in St. Petersburg stopped one woman from dropping 27 filled-out ballots into the ballot box, according to ZAKS.ru. After a brief conversation with militsiya officers, the woman was released.
Electoral monitors also discovered neatly stacked packets of ballots resting in ballot boxes, even before polling stations opened. At polling station No. 1513, one observer, Roman Udot, demanded that ballot boxes be opened and the packets removed. Each of the slips was marked off in favor of Dmitri Medvedev. Thankfully, Udot's persistence means that the ballots there will be disqualified. Still, that didn't keep electoral officials from trying to negotiate with the observer. Before the militsiya arrived to investigate, they offered to remove most of the ballots and leave just "two to three ballots in each box."
Some Moscow polling stations were using other methods to distract observers. In the Chertanovo district, officials set up a special room for monitors at several stations. The room contained food, beer, wine, vodka, and cognac. Representatives of the electoral commission were insistent that monitors come into the room and enjoy themselves.
In Novosibirsk, the mayor's office was offering a reward to the school whose polling stations counted the largest number of voters. According to the KPRF, the top school would receive 100 thousand rubles.
Electoral monitors also reported being kept from participating in vote counts, and being told to keep their distance from where ballots were being counted. By electoral law, observers must be kept no further than two meters from the vote counting table.
International electoral monitors have decided to wait until the vote is completed to release their reports, which should be published in the coming days. Their experiences may reveal even more about the way this presidential election was managed.
Gennady Zyuganov, the candidate from the Communist Party, has already promised to dispute the election's results. "We have evidence of electoral fraud, and we will take legal recourse," he told reporters.