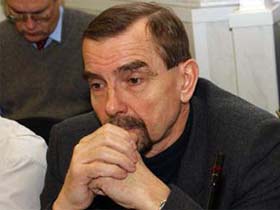 Lev Ponomarev, a distinguished human rights leader, has been charged with libel in a criminal case launched on February 23rd in Moscow. Ponomarev, an outspoken critic of the human rights situation in Russia, recently came public with evidence documenting barbaric conditions in Russia's prison system. As Interfax reported, the case has been mounted by the Federal Corrections Service, and its director, Yury Kalinin.
Ponomarev, who heads the For Human Rights movement, called the charges "artificial," and maintains his stance that a torture system has been created in Russia's jails. (A related article titled "Putin's Torture Colonies" was recently published in the Wall Street Journal)
"The penitentiaries have become more closed to human rights activists and civil society. This criminal case should attract society's attention to the horrible conditions in the Russian penitentiary system. I will call witnesses," he told Interfax.
Lyudmila Alexeyeva, the head of another human rights organization, the Moscow Helsinki Group, voiced support for Ponomarev:
"We know that the situation in Russian penitentiaries has deteriorated dramatically," she told Interfax. "The instances of violations of human rights and humiliation have become increasingly more frequent now, and, as a result, revolts and other protests have also become more frequent," Alexeyeva said.
This is not the first case mounted against Lev Ponomarev. He has previously been detained and arrested during opposition demonstrations known as Dissenters' Marches.
He has signed a pledge not to leave Moscow.