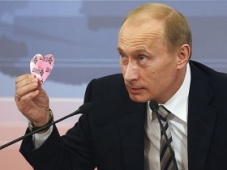 A long and thoroughly researched report on the results of President Vladimir Putin's eight year tenure has been published in Moscow. Titled "Putin: Results," the publication provides a detailed and critical analysis of Russia today, and details the outcomes of policies instituted by the Putin administration.
The authors are two well-known liberal analysts and politicians. Boris Nemtsov, a former Deputy Prime Minister (1997-1998) and Energy Minister, later founded the Union of Right Forces party. He has authored key anti-corruption legislation and served as a representative in Russia's State Duma (2000-2004). Vladimir Milov worked from 1997-2002 as an energy expert and a policy-maker in the Executive branch. He now heads the independent Institute of Energy Policy in Moscow, and has led the charge for reforms of Russia's energy policies and infrastructure. He is widely considered Russia's leading independent energy expert.
Nemtsov and Milov have harsh words for Putin's administration, and the state that Russia is now in. They acknowledge the economic gains that Russia has experienced, but argue that these gains have been minimized by Putin's policies, and come from conditions outside of Putin's control. The report asks readers to think for themselves about changes in their lives under Putin and offers some major conclusions, as well as alternative paths that can be taken. Some major points include:
Putin has wasted a fantastic chance to use sky-high export prices for oil (on average $40 per barrel as compared to $16 per barrel under Boris Yeltsin) to modernize Russia and to lead economic reforms, create a modern army, establish public health and pension systems.

The conditions of the army, pension system, public health system, the roads and early education have degraded under Putin, and are largely dysfunctional.

Putin has formed an unhealthy bubble economy that relies primarily on oil and gas prices. Investment in these and other spheres has been cautious and insufficient. Economic modernization has not taken place.

Russia under Putin has unheard-of levels of corruption, and the theft of national resources has become more widespread and covert.

Putin has created an authoritarian system (marked by the dismantling of independent TV channels and news media, a Parliament that barely functions as an independent organ of power, and the destruction of federalism) without creating actual stability or modernization.

Putin squandered and destroyed effective reforms of the late 1990s and early 2000s, replacing them with greedy property redistribution and a Russian police state.

New laws restricting freedom of speech, assembly and the activities of political parties have been passed under Putin.

Putin leaves a legacy of aggressive foreign policy, including an unsuccessful attempt to interfere with Ukrainian elections, which puts Russia in confrontation with the rest of the world.
For all of its strong criticism, the white paper ends on a hopeful note:
"Instead of an aggressive and underdeveloped Russia, the world needs to see a different, smart and modern Russia. A Russia as it should be. We can do this. As a matter of fact, the authorities should have done this from 2000 to 2007. We are criticizing Putin just for this: for missing valuable opportunities.

The situation can be corrected. But today's Russian regime, which is not accountable, not professional, and not honest, is not suitable. The present state of Russian affairs can only change in one case, if Russians take the fate of their country into their own hands. If, as Viktor Tsoi sang, 'from here on, we will act.'"
The complete report is available in Russian from Novaya Gazeta (pdf).
A full English translation is in the works from the La Russophobe blog.