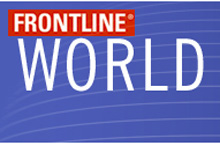 Frontline/World will air an analytical report on Russia's current state of affairs, free speech, and Putin's post election plans. The program features key voices on Russia, including Garry Kasparov, TV political commentator Vladimir Posner, as well as Maria Lipman of the Moscow Carnegie Center. The show will air on the evening of Tuesday, February 26th on PBS.
A review from the Wall Street Journal:
"Putin's Plan" — a report from inside Russia by Frontline/World reporter Victoria Gamburg (Tuesday, 9-10 p.m. on PBS; check local listings) — is the kind of inside reporting, with pictures, that should send chills down the spines of viewers. The documentary tracks Vladimir Putin's successful campaign to stifle opposition parties and to ensure that no opposition voice can reach the Russian public. But then, as Vladimir Posner — co-host of an American talk show with Phil Donahue in the 1980s and now host of a powerful and popular Russian one — comfortably observes, free speech ranks low among the concerns of the Russian public. It's clearly not a matter troubling to Mr. Posner, an avid follower of polls, who keeps his own show free of opposition voices. In the Russia presented here, where Mr. Putin enjoys a kind of rock-star status today, especially among the young — a population he has assiduously cultivated — opposition voices face an almost complete media blackout.

Pro-democracy groups like the one headed by Garry Kasparov are hounded by gangs of young people — Mr. Putin's unofficial army — who have become a serious force on the streets. In the youth camps Mr. Putin supports, the campers — who undergo programming eerily similar in to that of the old Kremlin youth leagues — learn to demonize democracy supporters as fascists, and enjoy their revels amid giant posters showing Mr. Kasparov in drag. A film that ought to shake viewers out of any complacency about the political direction of the new Russia.
Read a Frontline/World analysis of Russia's presidential campaign from Omsk, a city in Russia's heartland:
"Russia: Let the Campaigning Begin, Sort of," by Artyom Viktorovich Khan.