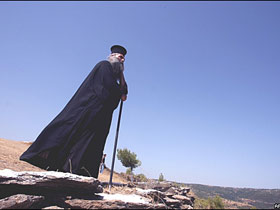 Russia's young clergymen will now be required to serve in the military, the RBK Daily business newspaper reported on February 18th. After an ordinance that went into effect last week, members of the clergy, religious men and seminary students will no longer be able to defer military service under Russia's mandatory conscription rules.
Representatives of the Russian Orthodox Church believe that the move will undermine the fundamentals of spiritual education in Russia and threaten Russia's institution of priesthood.
"Even though the Ministry of Defense assured us that the conscription of clergymen will raise morality in the armed forces, these are absolutely empty words. The truth is that a priest dressed in a soldier's uniform can, like any ordinary person, exert a share of their moral resources, and by no means enrich the army with morality or guidance," said Ksenia Chernega, the legal counsel of Moscow's patriarchate, in a statement published online.
The motivation for the change remained unexplained, and the Ministry of Defense declined to comment on the introduction of conscription for the country's future spiritual leaders.
The new rules are problematic for the faithful, since the Canon law of the Orthodox Church forbids clergymen from entering the military service as soldiers. Furthermore, members of the Church must technically be defrocked for participating in the military. Aside from that, priests are also barred from taking up arms or harming any living creature.