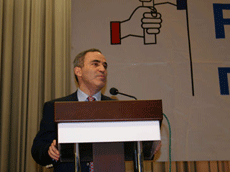 Garry Kasparov, the leader of the United Civil Front and a front man of The Other Russia Coalition, filed a lawsuit Friday against the "Nashi" pro-Kremlin youth movement. The proceedings, to be held in the Savelovsky District Court in Moscow, will begin on February 18th.
The reason for the claim is a leaflet distributed by Nashi at a series of its events and gatherings. The pamphlet describes the opposition leader as "a citizen of the United States," and asserts that objective of the Russian opposition is "to ransack Russia's national wealth in the interests of the USA."
Garry Kasparov intends to recover and defend his honor, dignity, as well as business reputation, and is seeking 30 million rubles (€834 thousand or $1.22 million) as compensation for moral damages.
Kasparov has repeatedly denied claims that he holds citizenship in any country outside Russia. Such information has been disseminated widely in the pro-Kremlin organizations and the mass media.
The Nashi movement has led a campaign against the Russian opposition from its inception, and has used various means, including violence, to disrupt opposition events. As was reported in late January, the group will be reorganized, and trimmed down, which has led many analysts to believe the organization has outlived its usefulness to the Kremlin.