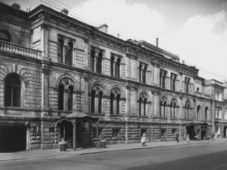 The European University of St. Petersburg has been forced to shut down for a week, Kommersant reported on February 11th. The official reason was a court order charging the school with breaching fire code in its buildings. University staff believe that "political motives" are at play, and that the actual reason is a grant the school received from the European Union in February 2007.
Maxim Reznik, the leader of the St. Petersburg branch of the Yabloko party, was convinced:
"It's clear [the closure] was politically motivated," Reznik told the Guardian newspaper. "We are observing a change in the political regime in Russia from authoritarianism to totalitarianism. What happened here is one example among many."
Fire officials first inspected the buildings on January 18th. University staff said that since then, they have made major improvements. They have appealed the court decision.
Some analysts said the action seemed uncalled-for. Kommersant quoted Andrei Yurov, an EU education expert, who noted that "Russia hardly has any universities meeting all standards of fire protection."
The EU funding, totaling €673,000 (US$976,000), was provided to lead a three-year project on electoral monitoring, and to teach students about the electoral process. Its program included a series of lectures and seminars for observers from various political parties. Participants were taught how to look for violations outside of polling stations, and to track such things as improper use of administrative resources during an election.
Authorities criticized the effort from its inception. Attacks on the University, which has provided post-graduate programs since 1994, surfaced from Russia's Central Electoral Commission, and were put forth by delegates in the State Duma. In October 2007, President Vladimir Putin accused the University of acting as an agent of international interference in Russian affairs.
Grigory Golosov, who led the course, maintains that the program was educational and not partisan. "We did not pursue any political goals," he said.
Under official pressure and concern for the University's future, the electoral monitoring program was suspended on January 28th.