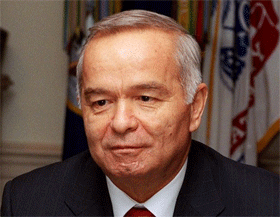 On February 6th, the leader of Uzbekistan gave President Vladimir Putin a kind bit of advice, and suggested a legal loophole by which Putin could have remained in office.  Islam Karimov, who was in Moscow to discuss post-Soviet cooperation, held a nation-wide referendum in 2002, and extended the length of presidential terms in that country, Reuters reports. 
He suggested that Putin, who is set to step down after elections in March, could have done the same.
"It is too late to talk about this now," he said. "But if such an option worked, I am convinced that no one would regret it. Such [a] decision would be the most logical and correct."
Putin, who is not allowed to seek a third presidential term by the Russian constitution, has publicly said that he wants to remain influential in Russian politics.  He has pledged to serve as prime minister to Dmitri Medvedev, a candidate he endorsed and who is almost certain to win in March.
In the run-up to the election, political experts were wildly speculating the different means Putin may use to remain in power.  Some ideas included changing the constitution, forming a new sovereign country by merging Russia and Belarus, or becoming prime minister to a weak president, who would then step down and let Putin retake the position.
Putin did not visibly respond to the Uzbek leader's suggestion.
Karimov, who took power in Uzbekistan in 1991, held a referendum in 2002, and increased the length of presidential terms from 5 to 7 years.  The change meant that Karimov's prior terms would not be counted as time served in office.
Uzbekistan and Karimov's regime have been cited for numerous human rights and press freedom violations, and of quashing any form of dissent.  His last presidential election, held on December 23rd, 2007, has been called a "political charade."