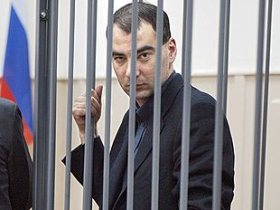 Vasily Aleksanyan, a deathly ill former YUKOS vice-president, may soon be moved from a pre-trial detention center to a clinic providing specialized care. Valery Zaitsev, a deputy spokesman for Russia's Federal Prison Service, told reporters that the 36 year old executive, who suffers from cancer, AIDS and tuberculosis, will be moved "in the near future." Zaitsev said that when and where Aleksanyan is moved depends on the Moscow Health Department.
The decision to relocate Aleksanyan comes after mounting domestic and international criticism, and a court decision to adjourn proceedings against the executive for health reasons. According to Yelena Lvova, Aleksanyan's lawyer, her client has only received treatment for tuberculosis, which he contracted in prison. Officials from the Prison Service and the Federal AIDS Center openly admitted that the prisoner's lymphoma, a form of AIDS-related cancer of the blood, would be "difficult" to treat at the detention center.
Human rights activists and individuals within Russia expressed their outrage at the affair. Picketers held solitary protests, and more than 10 people around Russia, including former YUKOS CEO Mikhail Khodorkovsky, went on hunger strike to protest the detention. One politician, Venedikt Dostavalov of the United Civil Front, even offered to trade places with the executive so that he could be treated.
Aleksanyan denies the charges of tax evasion and fraud levied against him, and has called his imprisonment politically motivated. He has accused authorities of extorting him to concoct a confession against other YUKOS officials, and denying him medical treatment when he refused.
"I wonder how long it will take now to implement the decision," Lvova said, noting that eight days had already passed since the defense asked for an adjournment. "Every day we lose makes the situation worse," she said.
UPDATE:
Aleksanyan has been moved to a clinic specializing in cancer treatment, Russian police told RIA Novosti. He will remain under "heavy police guard."