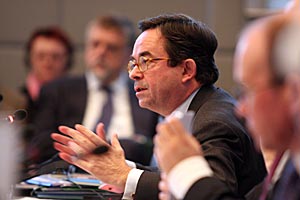 In the latest challenge to the legitimacy of Russia's upcoming presidential election, the Organization for Security and Cooperation in Europe (OSCE) had decided to withdraw its electoral monitoring mission. The 56-nation group blamed their move on "severe restrictions" from the Kremlin.
The watchdog arm of the OSCE and its Parliamentary Assembly would normally send two independent missions, but both divisions have decided to boycott the race.
"We made every effort in good faith to deploy our mission, even under the conditions imposed by the Russian authorities," said Ambassador Christian Strohal, director of the Office for Democratic Institutions and Human Rights (ODIHR), the OSCE's monitoring arm. "The Russian Federation has created limitations that are not conducive to undertaking election observation."
News of restrictions imposed on the monitoring body was playing out in recent weeks, and the decision came as no surprise to many. Russia had initially invited 70 ODIHR monitors to arrive on February 28th, just 3 days before the vote. The group had reiterated that this was not enough time for a complete mission, and had asked Moscow to move the date earlier, to February 15th. As recently as 2004, some 400 monitors from the ODIHR were present for the election, arriving weeks before the date to track candidate registration, campaigning, government use of resources, and media coverage.
The group pulled their most recent mission in December, 2007 due to visa delays.
Sergei Lavrov, Russia's Foreign Minister, criticized the demands. "This is called an ultimatum. Self-respecting countries do not accept ultimatums," Lavrov said.
Strohal countered Lavrov's claims, saying that "an election is more than what happens on election day."
"What is true for every election is also true for this one: transparency strengthens democracy; politics behind closed doors weakens it," he added.
"This is not an argument over five days," said Curtis Budden, the ODIHR acting spokesman." The point is that Russia is not willing to provide the absolute minimal conditions necessary for effective observation."
The OSCE Parliamentary Assembly (PA) also withdrew its mission after Russia invited just 30 of its monitors. The group had expected to send at least one representative of each of its 55 member parliaments, as has been customary in the past.