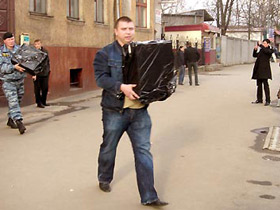 February 1st. Togliatti, Samara Oblast, Russia:
On Friday, February 1st, law enforcement officers entered the editorial offices of the Togliatti Review (Tolyattinsky Obozrevatel) newspaper, and confiscated all of the paper's computers. Pavel Kaledin, the editor-in-chief, told the Sobok@ru news agency that the officers were local specialized forces under the direction of regional Department of Internal Affairs.
In his words, the agents arrived at around 11:00 local time with an investigative warrant, and proceeded to carry out every computer in the office. The agents justified the seizure with claims that pirated software was installed on the machines.
Kaledin noted that some of the paper's computers had previously used unlicensed programs, but that editors had entered into a contract with MicroSoft in December, 2007. Pirated software is commonly found in Russia, with some experts venturing that 80% of all software in Russia is pirated. Opposition activists have alleged that enforcement is selective, and frequently used by authorities to silence critics of the government.
Kaledin believes that the confiscated computers are a backlash for political criticism published in the paper. The publication regularly features writings by Sergei Andreev, an independent candidate harshly critical of the pro-Kremlin United Russia political party.
The Togliatti Review has been pressured before. Last week, law agencies confiscated a second print-run of the publication. "It took great efforts to return it," Kaledin said.
The editor-in-chief did not associate the militsiya operation with tragic events in the newspaper's past. Valery Ivanov, the founder of the Togliatti Review, and Aleksei Sidorov, a lead editor, were murdered in contract-style killings in 2002 and 2003, respectively.