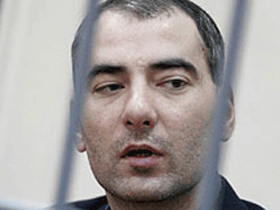 The administration of a pre-trial detention center holding Vasily Aleksanyan has bettered conditions for the jailed Yukos Vice-President, according to the website of Mikhail Khodorkovsky's lawyer. Aleksanyan, who requires frequent medical attention, had earlier garnered international attention for the poor treatment he was receiving.
"Since yesterday, unprecedented attention and concern has appeared for me in my detention facility," the executive said. "Today the prosecutor visited me. My incarceration conditions were improved. My cell was put in order. They're waiting for some commission, or the European Court has had influence. I returned from the proceedings yesterday, and when I walked into my ward, I thought I was in the wrong place."
Aleksanyan also commented on Mikhail Khodorkovsky, the imprisoned former CEO of Yukos, who had staged a hunger strike as an act of solidarity. "I hold great respect towards Mikhail Borisovich, and I'm indebted and thankful for his support. I wouldn't want him to suffer some kind of harm, or that he get sick or die – my sacrifice is enough. Because he has four children, and I have one," Aleksanyan said.
Earlier this week, the executive was taken to his Moscow hearing, even though he was feeling unwell and had high blood pressure. In the court chamber, he told journalists of another deadly prognosis from doctors – he has lymph-node cancer. The prisoner also suffers from AIDS/HIV, and contracted tuberculosis while incarcerated.
Shortly thereafter, Aleksanyan became ill in the courtroom, and required an ambulance. Before the hearing, Aleksanyan had announced his dissent toward being brought to the court, and signed a corresponding declaration. "But I was brought against my will. This is unlawful," he said.
Aleksanyan maintains that all the charges filed against his are false and politically motivated. "This is simply cold-blooded killing. I never took part in those events, for which I'm incriminated," he said.
The Yukos jurist is now being held in the isolation ward of the detention facility. By law, he is required to receive medical treatment for his conditions in a specialized clinic. No such transfer has been scheduled.