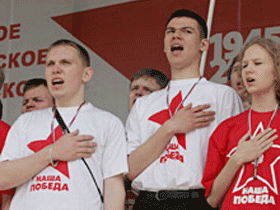 The Nashi (Ours) youth movement, a pro-Kremlin organization with tens of thousands of members, is cutting back on operations. According to a new report from the Kommersant newspaper, the administration is cutting the group's budget, and has decided to fragment the base into several smaller projects. Kremlin experts believe that the group's role in political life is on the wane, and that authorities have little need for it after the end of election season.
The movement is known for its mass rallies and fierce displays of patriotism, its militaristic training of members, and its frequently violent campaigns against opposition leaders and opposition demonstrations. Impetus for the group's creation were mammoth pro-democracy youth movements present during so-called "color revolutions" in several post-Soviet states. Nashi, founded in early 2005, was supposed to prevent any such revolution in Russia.
The organization's leader, Nikita Borovikov, told Kommersant that 45 of 50 regional offices will be closed. "The threat of Orange Revolution no longer exists and we can therefore concentrate on other matters," Borovikov said. "It does not mean of course that we are about to become history. It's just that we've matured."
According to Kommersant's source, the closures come in line with the departure of Nashi's top leadership, many of whom assumed higher political positions at the end of 2007. Around the same time, the Kremlin seemed to lose interest, and many Nashi leaders discovered that one of their major benefits – free government-issued mobile phones – simply stopped working. Other pro-Kremlin youth movements, such as the Young Guard, also experienced high-profile departures of top officials.
Vasily Yakemenko, the group's founder, is now the head of the government's youth committee. Sergei Belokonev, the head of the "Nashi elections" division, accepted a post in Russia's Parliament.
According to sources within President Vladimir Putin's administration, "the movement is not to be disbanded in full because the powers-that-be know better than that." The group will also retain some financial backing. However, authorities aren't planning on using Nashi for political purposes or mass-demonstrations any longer, and the movement will instead focus on more specific social projects.
Kommersant quotes Ilya Yashin, a leader of Young Yabloko:
"This movement was an expensive toy set up for elections. No need to finance so costly a structure anymore. I do not think that the project will be shut down altogether. It will be left in hibernation to be revived if and when necessary."
Still, the question remains: Has the movement completed its original mission, which was, in the words of founder Vasily Yakemenko, the eradication of "the confederacy of oligarchs and antisemites, Nazis and liberals?"