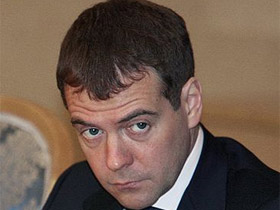 Dmitri Medvedev, the top contender for the Russian presidency, has refused to participate in televised electoral debates with other candidates. On January 28th, RIA Novosti reported that Medvedev, Russia's First Deputy Prime Minister, simply has other things to do.
The candidate's press-service explained:
"Since Medvedev isn't taking a leave of absence, but is actively continuing to work in the role of the government's first deputy chairman, his schedule is booked with trips to the regions and business meetings on various affairs."
Medvedev carries an endorsement from President Vladimir Putin, and most analysts predict that he will take a sweeping victory on March 2nd. Still, the move may cast yet another shadow on the fairness of the election.
Earlier this week, a senior official from the Communist Party commented that their candidate, Gennady Zyuganov, may step down from the race. He noted that a refusal from Medvedev, the "successor" candidate, to participate in an open, televised debate adds a "solid argument" for such a move. Zyuganov is currently ranked second in national polls.