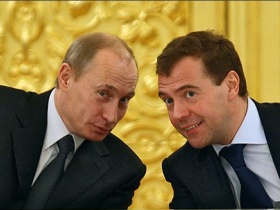 January 23rd, Penza:
Russian President Vladimir Putin and Dmitri Medvedev, the man likely to sweep presidential elections in March, landed quietly in the city of Penza on Wednesday. So quietly, in fact, that town residents only learned of a Presidential visit when workers started fervently washing light-poles in the city center. Once Putin and his protégé arrived, their presidential motorcade drove down streets cleaned of rubbish, dirt, and, it turns out, opposition activists.
Starting early in the morning, militsiya officers in Penza began detaining and arresting youth leaders from a whole series of opposition organizations and political parties. According to the Sobkor®ru news agency, large numbers of activists from the liberal Yabloko party and the Oborona youth movement are currently being held at various police stations around the city. No explanation has been given for the detentions, and no charges have been filed.
One of the youths, Alexei Pavlutkin, is well-known for throwing an egg at Putin's motorcade in 2005.
A number of other activists are being held under house arrest. Student members of the Union of Communist Youth have been told to stay in their educational institutions, under watch of school management. Militsiya officers have also been sent to keep track of specific members of the opposition at their places of employment.
It should be noted that no demonstrations or political actions were planned by the opposition groups for the presidential visit. Leaders have pledged to challenge the illegal detentions and file a case with the regional prosecutor.