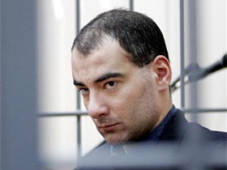 On January 22nd, a criminal case was launched against Vasily Aleksanyan, a former vice president of what was Russia's largest oil company, Yukos. Aleksanyan, who is gravely ill, has been behind bars for 14 months for proceedings in connection with his work at the now dismantled Yukos. He is currently accused of mass-scale embezzlement and money laundering, which could keep him in indefinite captivity.
His defense alleges that Aleksanyan's charges have always been politically motivated, and the former executive maintains his innocence.
Like former Yukos CEO Mikhail Khodorkovsky, who is more than half-way through an eight year term, Aleksanyan is serving time for tax evasion and fraud. Unlike Khodorkovsky, Aleksanyan, 36, may not live to the end of his sentence. In a breach of privacy, prosecutors this week revealed that Aleksanyan is suffering HIV/AIDS, although it has long been known that the prisoner is seriously ill, and has cancer.
During his time in prison, he has also contracted tuberculosis. He is now nearly blind, and could not read the latest charges put before him. He has not received any medical attention, and his legal appeals have been rebuffed.
Law officials defend themselves by saying that Aleksanyan refused treatment at a prison hospital. His attorneys have pointed out that their client requires specialized care, and that the prison facilities lack the necessary equipment and even medications.
Claims that officials have tried to blackmail Aleksanyan by denying medical care have sparked a rising tide of outrage abroad. The European Court of Human Rights in Strasbourg has demanded that the prisoner be moved to a civilian hospital three times, to no avail. The human rights watchdog, Amnesty International, has also spoken out in support.
"Attempts have not ceased to make me give false evidence and provide testimony incriminating other Yukos bosses, in exchange for giving me bail on health grounds, that is, in effect, in exchange for life," Aleksanyan wrote in a statement. He claims that jailers treated him worse after he refused to cooperate.
On January 22nd, the Russian Supreme Court denied the former executive's appeal and upheld an earlier ruling which extended his sentence.
After his last hearing on the 16th, Aleksanyan's outlook was grim.
"I hope I will survive for another week."