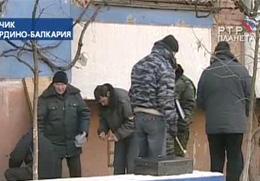 Nalchik, January 12:
A regional police chief has been murdered along with his driver in the southern Russian region of Kabardino-Balkaria. Unidentified assailants opened fire on Analoty Kyarov, the head of the region's anti-organized crime division, as his car was traversing Nalchik, the local capital. Interfax reports that Kyarov and his driver, a senior officer of the OMON Special Forces, died shortly thereafter. Two other officers were injured and remain in critical condition.
An investigation has been launched, although no suspects have been apprehended.
A statement released by separatists on the "CaucasusCenter" website took responsibility for the attack, and noted that the actual target was Nikolai Patrushev, the head of the Federal Security Service (FSB). The agency chief was visiting the area for an aviation exercise which landed Patrushev atop Mount Elbrus, Europe's highest mountain. According to the statement, he was scheduled to drive through Nalchik with Kyarov in line with anti-terrorism events taking place across the Kabardino-Balkar Republic.