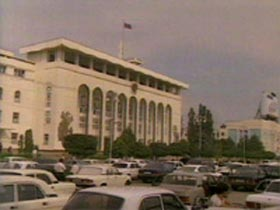 On December 29th, demonstrators took to the streets of Makhachkala, the capital of the Republic of Dagestan. The Russian region, located in the North Caucasus near the Caspian Sea, has seen rising levels of violence and social unrest. The Kavkazsky Uzel  (Caucasian Knot) Information Agency reported that the protests were incited after electricity was cut to much of the city.
Picketing residents have set up barricades in the city center. According to anecdotal reports, at least one person has been injured.
The demonstrators are carrying banners calling for the resignation of Said Amirov, the city's mayor, as well as Mukhu Aliyev, the president of Dagestan. The citizens have charged that the government has been unable and incompetent in dealing with the republic's problems.
In total, several hundred participants have joined in the unrest