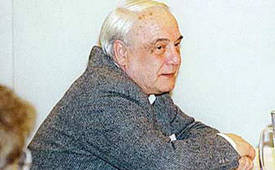 Vladimir Bukovsky, a famed writer and human rights activist, has been stripped of his chance to run in the presidential elections. Ekho Moskvy (Echo of Moscow) radio reports that the Soviet dissident's attempts to form the necessary "initiative group" have been blocked. According to Russian law, a group of at least 500 people must meet to put forth a candidate.
Bukovsky, who had fled the Soviet Union in the 1970s, returned to Russia this year to pursue a presidential campaign, and has been a critic of President Vladimir Putin.
At the last minute, the hall Bukovsky's supporters had booked backed out of its contract. The administration of the "Korolevsky" (King's) concert hall told Roman Dobrokhotov, the leader of the "We" movement, that they had submitted to pressure from the FSB. The Russian security agency apparently had a "chat" with the management. Fortunately, Bukovsky's application to the Central Electoral Commission had listed an alternate address, and he still plans to announce his candidacy on Sunday.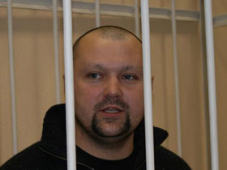 Another candidate is facing even firmer resistance, and is now behind bars for what he says are political reasons. On December 14th, Aleksandr Donskoi, received notice from the "Severny" (Northern) Cultural Center that they could no longer host his initiative group. In a letter, the management claimed that the building needed emergency repairs, and that it was "necessary to turn off the electricity on the 15th, 16th, and 17th of December." Donskoi's supporters believe the actual motives were political.
Donskoi, who is the mayor of the northern city of Arkhangelsk, has had problems ever since he announced plans to stand for president in February. All of a sudden, numerous investigations of corruption and perjury began to surface. The mayor was accused of falsifying his university diploma, and using his status as mayor to improve his business dealings. In September, he was sentenced to a year's imprisonment and fined 75 thousand rubles. Since August, he has been behind bars for a third charge he calls bogus: abusing his power of office, and using city resources to hire private security for himself and his family.
Earlier this week, President Vladimir Putin endorsed Dmitri Medvedev as a presidential candidate. Many other potential contenders have since stepped down, as running against Medvedev is a clear signal of opposition to both Putin and the Kremlin. Those who remain have encountered some difficulties. Garry Kasparov, the leader of the Other Russia coalition, has been forced to rescind his candidacy after the venue he had scheduled pulled out of their contract.
With Putin's endorsement, Medvedev should have no difficulty in sweeping the election and garnering a majority of votes. Which makes the sharp pressure on the opposition even more alarming.