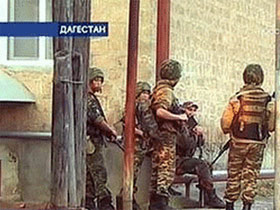 A Supreme Court Judge was shot to death today in Makhachkala, the capital of the Russian Republic of Dagestan. Kurban Pashaev was reportedly shot ten times with a pistol outside his apartment building on Tuesday. He died instantly.
Itar-Tass reports that an investigation is underway, but that no suspects have been apprehended. An official dealing with the investigation noted that Pashaev's employment was the most likely reason he was targeted.
"For some time now, he had been investigating the murders of members of the "Union of Right Forces" [political party], which took place in the electoral campaign in the Dakhadaevsk region of the Republic," the official said.
Pashaev's death comes at a time of rising instability and recklessness in Dagestan, which borders Chechnya. On December 10th, Gaidimagomed Magomedov, a member of the Dagestani Popular Assembly, was shot to death nearby.
On November 21st, the leader of the regional brach of "Yabloko" was wounded in Makhachkala. Like Pashaev, Farid Babaev was shot at the doorstep of his building. He died of his wounds several days later.
Government officials and law enforcement agents are now frequently targeted in Dagestan, and violence is also on the rise in nearby Ingushetia. The perpetrators are rarely caught. Some experts have predicted that the region is heading towards a disastrous destabilization. For now, the Kremlin's response has been a heavy-handed, and much-resented crackdown. The Special Forces have been given wide leeway in their operations, and have allegedly used any means necessary, including torture, to extract confessions.