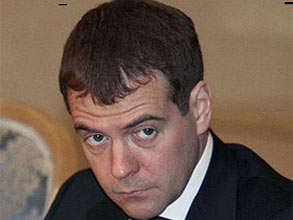 In a surprise announcement, President Vladimir Putin expressed his support today for First Deputy Prime Minister Dmitri Medvedev as his successor to the presidency. With Putin's endorsement, Medvedev is widely favored to win in the March 2008 presidential election.
Medvedev was proposed as a presidential candidate by four political parties: United Russia, Fair Russia, the Agrarian Party, and Civil Force. At a meeting with representatives of the parties, Putin endorsed the proposal, commenting that he has worked closely with Medvedev for 17 years.
Boris Nemtsov, the leader of the opposition Union of Right Forces (SPS), announced that SPS stands against "operation 'successor.'" "We hold, that the imposition of a successor candidate is an affront and a sign of the utmost disrespect for the citizens of our country," he said. In his opinion, the Kremlin "fears its own people," and "is ready to break the law to keep its own faction in power."
Another SPS leader, Nikita Belykh, told Interfax that "The name is immaterial to us, as we do not accept the very notion of a successor. People will vote for him the same as they voted for United Russia. What's the point in discussing his personal qualities?"
Garry Kasparov, one of the leaders of the Other Russia coalition, spoke out strongly against the endorsement. "Putin chose the weakest of today's candidates, in order to maintain the balance of power," Kasparov said. "Putin's backing of Medvedev is the result of a battle within the apparatus between various Kremlin factions. Medvedev's endorsement marks a defeat for the Igor Sechin group."
Rumors of a possible Union between Belarus and Russia with Putin as president swirled in the mass-media during the past week. Some commentators, including Gennady Zyuganov of the Communist party, still saw this as an option. Zyuganov said that the latest endorsement was part of the plot "orchestrated by the Kremlin."
Medvedev isn't the only confirmed candidate with presidential ambitions, although Putin's support all but ensures a victory. Other declared contenders include Garry Kasparov, Mikhail Kasyanov, Vladimir Bukovsky, Boris Nemtsov, Nikolai Kuryanovich, Aleksandr Donskoy, Vladimir Zhirinovsky, Gennady Zyuganov, Grigoriy Yavlinsky, Andrei Bogdanov, and Oleg Sheshin.