Today a memorial plaque was placed in the entrance-way of the building where Anna Politkovskaya lived and was murdered on October 7th, one year ago today. The sign was mounted by United Civil Front activists, led by Garry Kasparov, the Other Russia presidential candidate and UCF leader. Over the course of the day, a continuous stream of people came to the spot to pay their respects to the slain journalist, and to lay flowers at the site of her tragic death. We encourage all residents and visitors to Moscow to stop by Lesnaya Street 8 to pay their respects.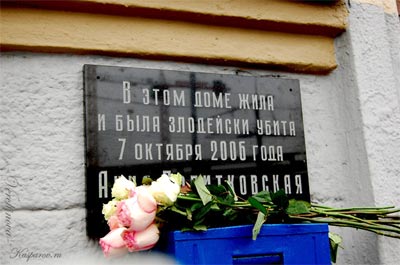 The engraved placard reads: "In this house lived and was cruelly murdered Anna Politkovskaya, on October 7th 2006."
The action drew the attention of OMON special police forces, who arrived at the scene in two mini-buses, and proceeded to check the documents of all those gathered at the site. One activist, Andrei Feoktistov, was arrested and subsequently released.
Politkovskaya's death marked the 47th killing of a journalist in Russia since 1992, and the 17th since Putin took office (13, including Politkovskaya, have been murdered in contract-style killings – according to the Committee to Protect Journalists). To date, no groups or individuals have been brought to justice.
The Kremlin recently arrested a group of suspects in connection with Politkovskaya's murder, although the words of Prosecutor-General Yuriy Chaika, and subsequent information, has shown that the arrests were political, and that authorities are still far from cracking the case. (For more insight, click here.)
Dmitri Muratov, editor-in-chief of Novaya Gazeta, where Politkovskaya worked, told The Nation:
"She was a person who did not place any luminary or authority above justice. She was absolutely undiscriminating in her choice of enemies." "Now let them be afraid. They, the corrupt officers of Russia's security services, are seeking to ruin the investigation that is being carried out by the Russian Prosecutor-General's Office and 'Novaya Gazeta.' I can tell you that special services officers and Interior Ministry officials aided, participated in, and organized Anna's murder."
At a somber toast to Politkovskaya's memory at the Novaya Gazeta offices, Garry Kasparov paid this tribute: "Today we remember a day of tragic coincidence, but none of us believe it was an accident of fate. Today across the country the state propaganda machine is celebrating the birthday of Vladimir Putin and ignoring the anniversary of Anna's murder. We all must do whatever we can to reverse this horrific state of affairs. Only when the state acknowledges this murder and ignores this birthday will we be able to say things have been put right."