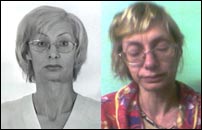 The outrageous kidnapping of writer and United Civil Front / Other Russia activist Larisa Arap took place at a Murmansk medical clinic on July 5. (Our previous report. A recent report that includes an interview with Larisa's husband.) The clinic officials who orchestrated her abduction and detention still refuse to discuss her case history or diagnosis, even with Larisa's family. Even worse, these local administrators have been supported by the entire Russian legal system at every step. It may have begun as an act of revenge for the critical article Ms. Arap wrote in one of our newspapers regarding the substandard and even cruel treatments given to children at the clinic where she was abducted. Now it has been transformed into an object lesson in how Russian state organs support one another blindly instead of performing oversight. In some ways this case is even worse than the Soviet's systematic use of psikhushkas for the punishment of dissidents. A plot by local doctors to silence a journalist has been defended by the entire legal hierarchy. Instead of investigating the doctors for kidnapping, the legal structure is protecting them.
On August 3-4, well-known human rights activist Oksana Chelysheva traveled to Murmansk with a French television crew to investigate the case of Larisa Arap. They were not allowed to visit Larisa, who has now been transferred to a facility in Apatiti, 200km from Murmansk. They did speak with her by phone on the 3rd. Larisa said they had been giving her a "new medication" and that she was experiencing a "permanent headache." The reporters were stonewalled by the officials at the clinic, who refused to provide any medical documents about Ms. Arap's case. They refused to answer most questions or to say why she is still there against her family's will and in the face of numerous legal violations. The doctors were, however, eager to contradict the critical article Larisa Arap wrote about the clinic's practices soon before her detention. At one point, one of the doctors told the French reporters, "no matter who runs the country we will be needed." During their entire visit, Chelysheva and the reporters were followed about by a KGB agent, a clear indication of how this has quickly become a political case if it wasn't one to begin with.
Russia's human rights ombudsman, Vladimir Lukin, has said they will send an independent expert to review the case on August 9. Larisa was abducted over one month ago and there have been plenty of opportunities to intervene and investigate. Instead, the authorities have sat on their hands or actively defended the criminal actions of the Murmansk doctors.