On April 20th, Garry Kasparov, the former world chess champion who is one of the most visible leaders of The Other Russia, was taken to the local Moscow office of the FSB for questioning. This was done at the request of the Attorney General's office, which said it wanted to investigate whether some of Kasparov's actions and speeches contained "elements of extremism." The FSB was to determine this and provide details to the Attorney General, who would decide if a criminal case would proceed.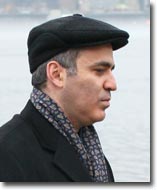 Kasparov: "There were two cases. The first was regarding my radio interview on Echo of Moscow on April 8. I allegedly called for people to come to Pushkin Square on the 14th at noon. The second case was about a special issue of the March of Dissent newspaper published at the beginning of April on behalf of the United Civil Front (UCF). It was a joint edition of the paper from all the members of The Other Russia coalition. I'm the publisher."
"There were no specific instances of extremism mentioned during the four hours of questioning. It seemed to me and my lawyer that the KGB officer running it wasn't very enthusiastic about his assignment. Eventually my all my answers were typed up and handed over. I signed all the paperwork with my lawyer. Now it all goes to the Attorney General's office."
Meanwhile, the Russian parliament has quickly passed an amendment to the law on extremism. The prosecutor no longer requires a court to decide if a government official has been libeled. He may decide on his own whether or not a false statement has been made and if so, may proceed with a criminal case leading to up to 15 years of imprisonment. All of the laws on extremism allow for broad interpretation on the part of the government and the focus is clearly on opposition groups. When Putin met with FSB officers several months ago he emphasized to them that "extremism is the greatest danger to Russia."
The next day, April 21, Kasparov was called by the Attorney General. But this time they were asking about the circumstances of his arrest en route to the April 14 rally in Moscow. Vladimir Ryzkhov, one of the very few members of parliament counted among the opposition to Putin, filed complaints about a number of arrests and assaults perpetrated by the police against the peaceful rally participants. The AG must investigate these complaints.
Kasparov: "In my case they violated every letter of the law, from A to Z. It will be telling to see which way the Attorney General moves now. From a legal perspective he must open an investigation of the officers who detained me. And I was held for eleven hours when such violations are limited to three. I should have been issued a summons and released."
Kasparov is currently appealing his case. We will keep you up to date on all of these ongoing legal battles.